Hi there, I'm Photraveller Yori who loves photography and travelling.
"Forest bathing" originated in Japan, the country of my birth.
Its effectiveness has been recognised and it has become popular overseas, particularly in Western countries, and the term 'Shinrin-yoku' 森林浴 has started to be used in Australia.
This article introduces the experience of Forest Therapy®, which is carried out in the Eucalyptus forest in Sydney.
It is operated by Mayu Kataoka (Forest Minds), a Japanese guide certified by both the Australian and Japanese Forest Therapy Organisations.
Forest therapy, which stimulates the five senses and promotes physical and mental wellbeing, is recommended not only for tourists to Sydney, but also for residents.
This article provides information on the benefits of Forest bathing 'Shinrin-yoku' and a review of the Mayu's Forest therapy walk experience.
About Forest bathing Shinrin-Yoku 森林浴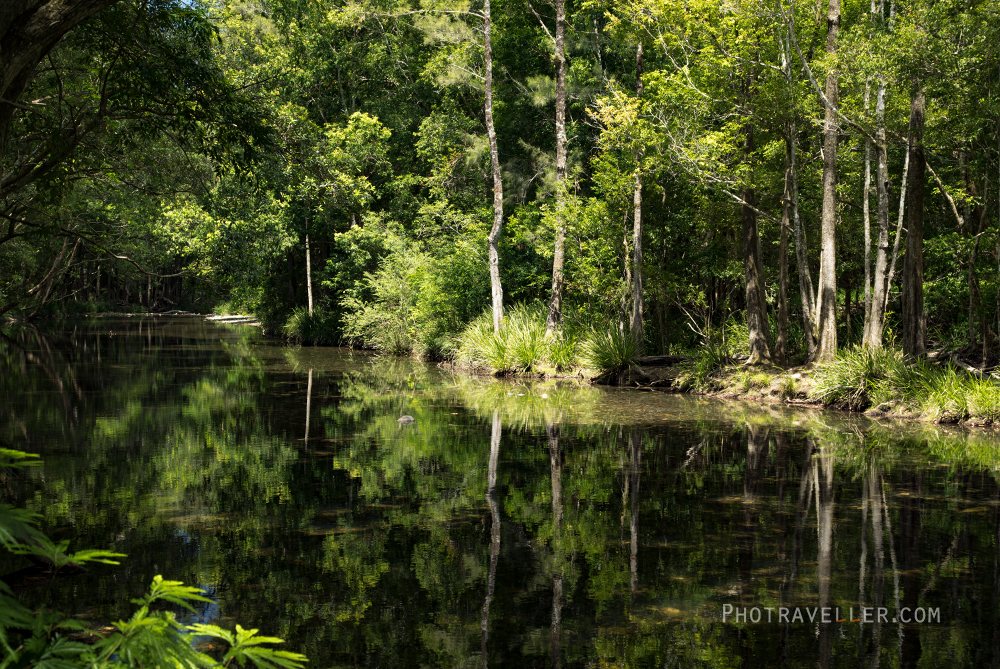 Shinrin (forest 森林) Yoku (bathing 浴) is
'In forests there are unique aromas with sterilising powers, and being in the forest makes for a healthy body.' The term "forest bathing" was presented based on the concept that.

Source: Gunma Paz University (15), 57-62, 2013-03『森林浴の歴史について』
As the benefits of forest bathing were scientifically proven, it was introduced abroad in 2010 and spread worldwide.
Scientifically proven benefits of forest bathing.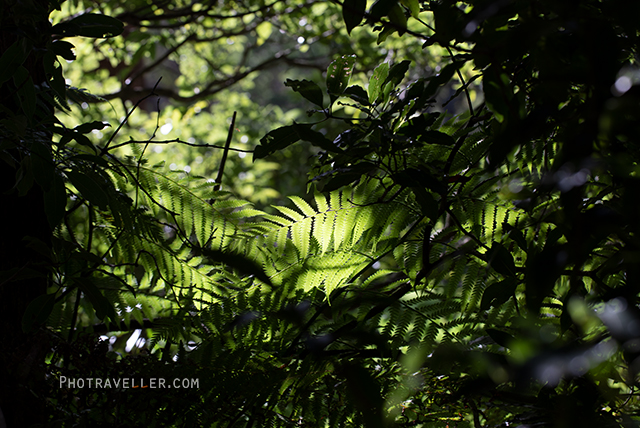 Forest bathing is also a scientifically based preventive medicine.
<Activation of the immune system>
According to a Japanese Forestry Agency empirical study (August 2003).
It has been suggested that simply being in a forest environment reduces Cortisol (known as a stress hormone) and that exercise (forest bathing) in a forest environment increases Natural Killer cell activity.

Source: Japanese Forestry Agency 『森林の健康と癒し効果に関する科学的実証調査報告書』
The key to boosting immunity is to energise NK cells, which find and attack cancer and viruses.
Moderate exercise also has a synergistic effect, and forest bathing is one of the ideal activities.
It is also pleasing to report that just being in the forest reduces stress hormones.
In addition, the NK cell counts that have increased after forest bathing remain high even after a month.
It has been proven that the forest bathing effect is sustainable.
Regular forest bathing is ideal for maintaining a healthy immune system!
<Regulating the autonomic nervous system>
Forests are full of phytoncide, an aromatic substance emanating from trees.
This volatile substance helps to regulate the autonomic nervous system, reduces stress, stabilises the mind and provides comfortable sleep.
Forest bathing (Shinrin-yoku) and Forest therapy.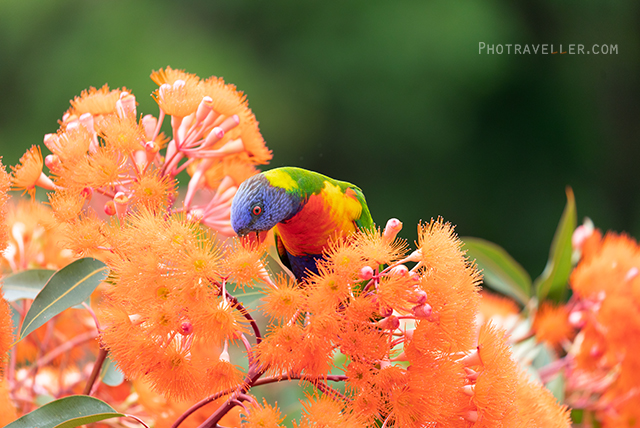 What is the difference between forest bathing and forest therapy?
Forest bathing
Entering a forest to immerse oneself in the clean air, bathing in its scents, and for mental and physical well-being.
Forest therapy
Forest bathing based on the analysis and verification of scientifically proven data and intended as a health promotion initiative. Forest therapy is, so to speak, an evolved form of forest bathing.
Why is forest therapy in eucalyptus forests so special?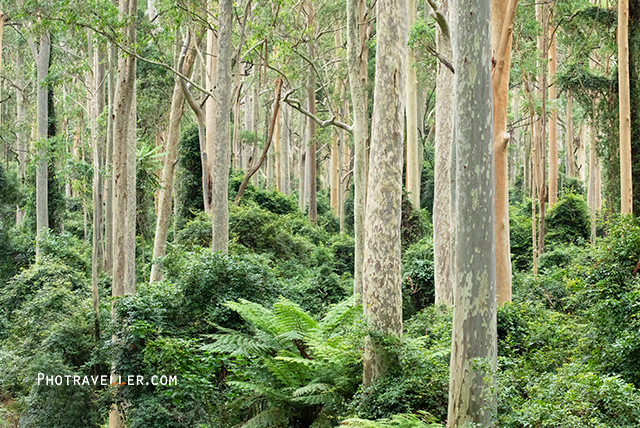 Australia is known for eucalyptus.
Eucalyptus releases large amounts of Terpenes, one of the aroma compounds.
Terpenes are also a common ingredient in aromatherapy.
When they enter the body through breathing, β-Endorphins (stress relief and pain management) are released in the brain, leading to relaxation.
And it is also expected to activate the brain.
This is unique to forest bathing in Australia!
The famous Blue Mountains are a must-see for Sydney tourists. The reason they are called blue is actually due to terpenes. The vast eucalypt forests produce large quantities of terpenes, which vaporise, giving the area a blue appearance.
Forest bathing effects are;
Immune activation

Decrease in stress hormones

Relaxation effect

Mental stability

Recovery from fatigue

Comfortable sleep etc.
Forest therapy experience review.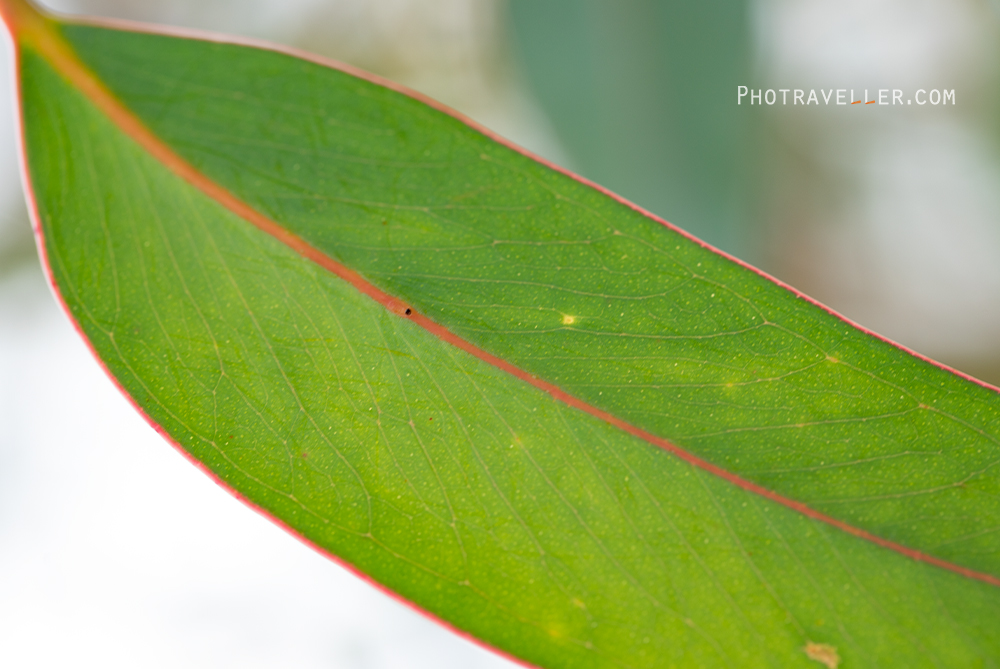 To keep illness away and live in today's stressful world, it is important to consciously make time to refresh yourself.
Forest bathing is one of easy and enjoyable way to do it.
Moreover, the effects are lasting!
Here are some of the forest therapy experiences that have taken place in Sydney's phytoncide-rich Eucalyptus forests.
Go into the forest with a forest therapy guide.
I participated in a forest therapy walk on Sydney's north shore,  organised by Mayu Kataoka from Forest Minds.
She is certified by the Japan Forest Therapy Society and INFTA (International Nature and Forest Therapy Alliance).
Also an accredited operator of NSW National Parks and an official member of the Blue Mountains Tourism Association.
It is great to see that forest bathing, which originated in Japan, is becoming a popular activity for Aussies.
Slow walking Forest Therapy
The forest therapy took place in Lane Cove National Park, about 20 minutes' drive north of Sydney CBD.
The flat, uphill-free course has been carefully selected to maximise the therapeutic benefits, so children and older people can walk without difficulty.
The programme combined a variety of activities, stimulated the senses and allowed the participants to experience a deeper sense of their own connection with nature.
It is very different from a typical bushwalk.
The programme combined a variety of activities, stimulated the senses and allowed the participants to experience a deeper sense of their own connection with nature.
Relax your mind and body
First, we started by relaxing the mind and body with stretching exercises inspired by tai chi, and then walk through the forest.
Enjoy forest bathing using all five senses
Forest therapy is about carefully engaging with nature using the five senses.
Mayu, for example, leaded the participants' awareness with these words;
<The sense of sight> 
Find something red in the forest today.
 (When I became aware of it, I could see all sorts of colours in the green!)
<The sense of hearing>
What sounds can you hear behind you now?
(I was only conscious of the front. Behind! I see. I could also hear birds high up in the trees!)
<The sense of smell> 
What does this eucalyptus leaf smell like?
(Oh, different types of eucalyptus smell differently! I'm starting to smell other trees, the air, the soil!)
<The  sense of taste> 
Breathe in and breathe out deeply. What does the forest air taste like?
(Taste of air? I've never been aware of it, but I sure can taste it!)
<The  sense of touch> 
What does this bark feel like?
(Eucalyptus bark is just like human skin! Smooth and comfortable.)
It's very Interesting!
Thanks to the therapist's guidance, I felt my senses expanding more and more freely!
In this forest therapy, it is important to walk slowly.
In this way, the five senses are naturally sharpened.
While walking, we learned a lot about birds, plants, and how to feel the forest.
By the end of the program, I felt relaxed, my breathing was deeper, and my senses were more clearer.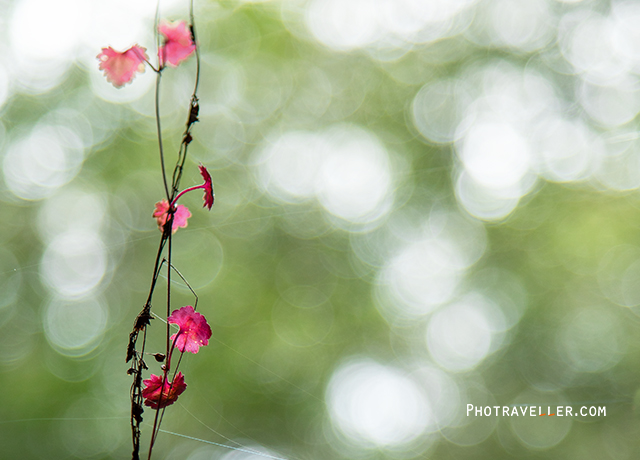 Creative Walk
The therapy program has a variety of activities, but this time it was a creative walk.
The lesson was to paste leaves and flowers picked up in the forest onto a paper frame to create a picture.
I found myself walking slowly through the forest, looking more carefully to find the leaves of the colour and shape I wanted.
This is the piece I created.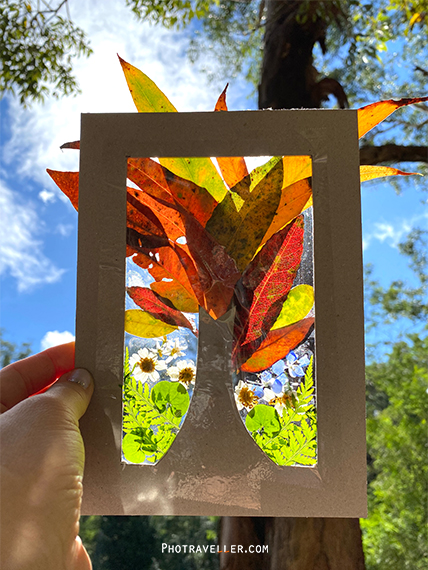 Interact with trees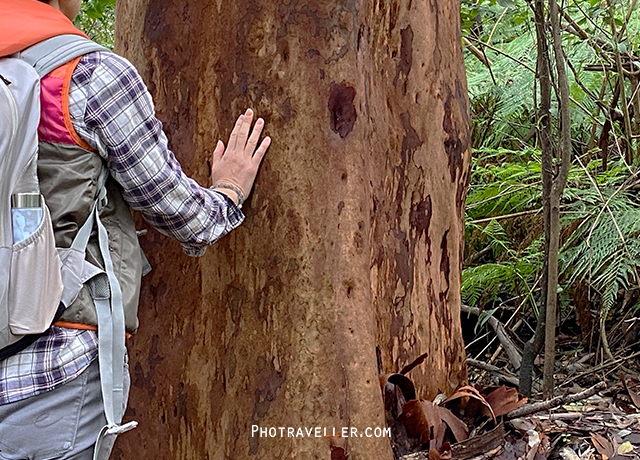 The next activity was to find a favorite tree, touch it, feel it, and receive energy.
You may touch them with your hands, sit and lean on them, or spend time in any other style you wish.
As I looked around the forest, I saw a tree that caught my attention.
I closed my eyes as I touched that tree.
Then I began to feel as if I was exchanging energy, I felt calm and the words "thank you" came to mind.
This is the forest therapy effect, isn't it?
+++
The sound of the bell signals the end of the program.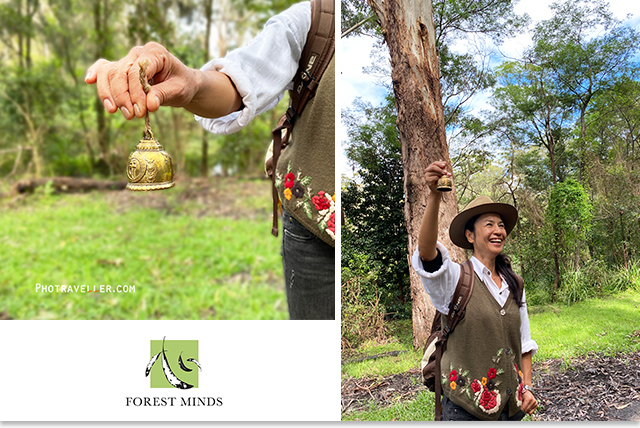 Unwinding tea time
The last stop is a tea time by the river, surrounded by large eucalyptus trees and bird songs.
Everyone had good smiles and enjoyed herbal tea and snacks.
It was a meaningful time to share experiences and ask questions about the Forest therapy.
Birds were peeking at us from the trees with great interest!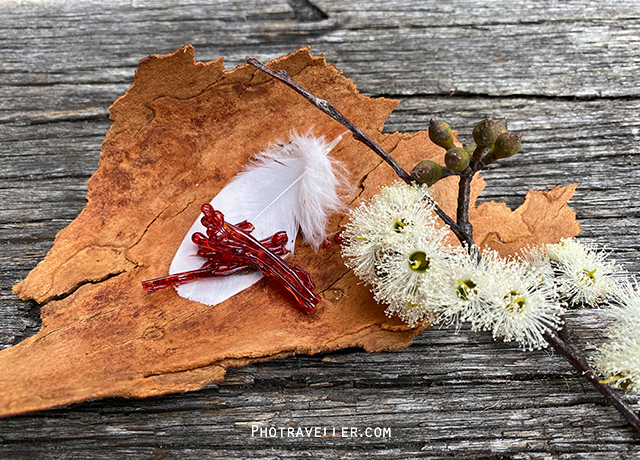 Today's souvenirs from the forest!
Eucalyptus bark and sap, cockatoo feathers, eucalyptus flowers.
Inquiries and Booking
Forest Minds official site

Instagram  Mayu Kataoka

Certified Forest Therapy Guide with Japan Forest Therapy Society and INFTA (International Nature and Forest Therapy Alliance)

NSW National Parks licensed eco pass operator

Member of Blue Mountains Tourism

Mental Health First Aider
Conclusion
How was forest therapy in a sustainable eucalyptus forest?
Sydney also has many native eucalyptus forests just outside the city.
Eucalyptus is particularly effective for forest bathing, so I thought this activity was a must-do when visiting Sydney.
Of course, anyone can enjoy it, from adults to children.
Forest bathing effects are;
Immune activation

Decrease in stress hormones

Relaxation effect

Mental stability,

Recovery from fatigue

Comfortable sleep etc.
Let's enjoy nature and take regular forest bathing to maintain our physical and mental health!
Thank you for reading to the end.