This is an interview about Australian volunteer firefighters.
Bushfires occur every year as a natural phenomenon in Australia, but this year's bushfires have become the worst in history due to changes in the global environment.
The bushfires began to spread around September 2019, burned 110,000 km² nationwide (approximately half area of main Island of Japan) and 33 people died, including four firefighters. (As of January 31, 2020)
The RFS (Rural Fire Service) struggled to contain the fires and to protect the residents, houses, farmland and animals, and without the help of volunteer firefighters the damage would have certainly been even greater.
What kind of agency is the RFS, and why do people choose to do dangerous volunteering work?
With permission from the RFS headquarters, I interviewed two active firefighters.
Two key words which came up constantly were "community" and "mateship".
It will be a long article, I would be grateful if you would read it to the end.
What kind of organization is the RFS to which the Australian volunteer fire brigade belongs?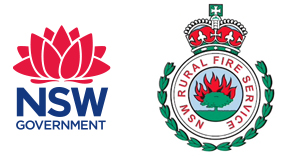 Australia has volunteer fire service agencies in each state. (eg.Victoria CFA / Country Fire Authority, South Australia CFS / Country Fire Service).
The RFS is NSW's statutory institution consisting of approximately 72,000 volunteers (plus 900 paid staff).
It is the world's largest volunteer organisation.
It has about 15,000 trained volunteers available for deployment at any given time.
They are involved in a wide range of activities including Administration, Communication, Catering, Community engagement, Equipment maintenance, Youth development and so on.

(Source NSW RFS official)
Fire agencies in NSW
Not only in NSW but in Australia there are two main fire agencies protecting citizens.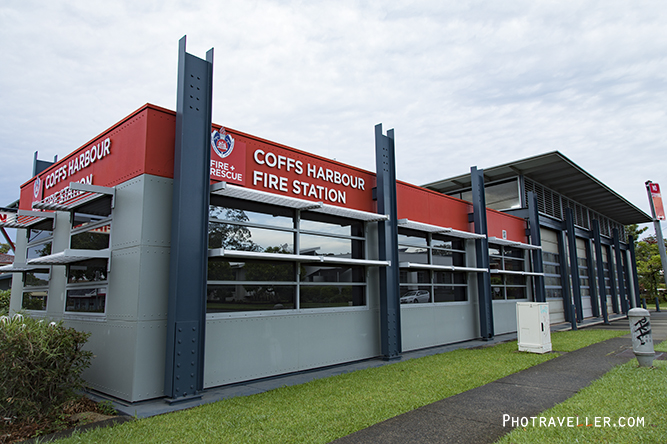 Fire and Rescue NSW
It is a State Government agency responsible for the provision of fire, rescue and hazmat services, and mainly handles urban areas. There are 335 stations in NSW and firefighters are working as occupations.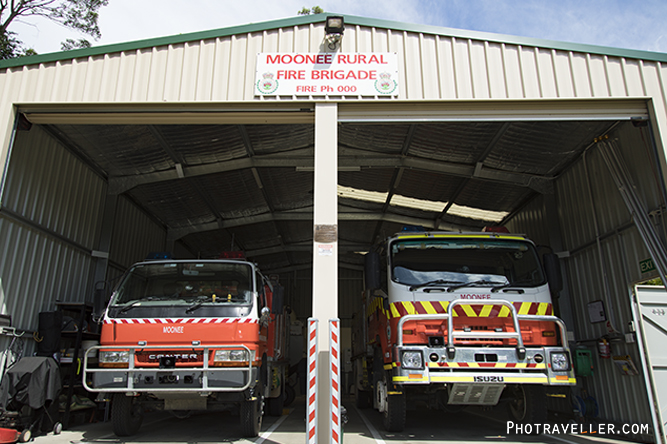 NSW Rural Fire Service (RFS)
Although it is a State Government agency, it is made up of volunteers, and handles mainly rural areas. 95% of NSW is under RFS responsibility.
History of RFS
(Source: Berrigan NSW)
Australian bushfires are a natural phenomenon from prehistoric times.
They have occurred every year during the same season.
In the 1800s, the number of European settlers increased in order to open up agricultural lands in remote areas, and they voluntarily extinguished fires to protect their lives.
In 1889 for the first time, a community-based volunteer fire brigade was formed in Berrigan near the border of Victoria, which had been hit by repeated fires.
It was the year that more than 250 inhabitants had settled, and the first colonial light railway opened.
(Source: Berrigan NSW)
In November 1900 at a public meeting, 60 firefighters joined it.
And the Berrigan Fire Brigade was registered as the first official volunteered fire brigade in NSW.
This is the origin of the RFS.
A century later in 1997, the Federal Government finally issued legal protection in order to standardize equipment and training, and the RFS was officially launched as a state agency.
RFS now
There are currently 2,100 fire brigade units in NSW under 150 fire control centres.
The RFS activities are mainly to extinguish and mitigate bushfires in NSW, but also to respond to emergencies, such as house or vehicle fire and hazmat removal.
They also conduct backfire burns to prevent spontaneous bushfires that can occur near residential areas.
The RFS frequently assists NSW Ambulance Service with patient evacuation.
Additionally, the RFS also participates in local community activities and offers advice on fire prevention.

"We are doing various things!"
There are individual differences, but initial firefighting training takes several months to half a year.
Even though they are volunteers, they are professionally trained real firefighters.
Special interview with active Australian volunteer firefighters
Coffs Harbor is about 540 km Northeast of Sydney.
Surrounded by sea and mountains, it is a beautiful scenic land and popular tourist city with blueberry production, fishing and whale watching.
A sister city tie-up has been established with Sasebo City in Nagasaki Pref, Japan.
I interviewed two active firefighters who belong to Moonee fire station in Coffs Harbor.
Captain Will O'Brien, 33 years old, has four children between the ages of 3 and 12 and works as a traffic project manager.
He joined the RFS in 2012, and has been the captain of the Moonee fire brigade for four years.
Deputy captain Bill Richardson, 74 years old, is a veteran firefighter with six grandchildren.
He worked as a Technical Officer and Technical Instructor for Telstra in Sydney, but moved back to Moonee to spend his retirement life where he was raised.
He participated in the RFS in 2008.
+++
Q: How many people currently belong to the Moonee fire brigade?
Will "We have 8 active crews, 5 reserves, and 10 trainees. Their fundamental training takes several weeks"
Q: How many fire brigades are located in Coffs Harbor?
Will "The Coffs Harbor Fire Control Centres covers the neighbouring town of Bellingen as well. There are more than 20 fire brigades in each region.
Depending on the location of the fire, fire fighting activities may be carried out jointly with nearby fire brigades, if there are not enough crew. We work and support each other. "
Q: Do you work with Fire and Rescue?
Bill "The RFS is responsible for fire fighting in all rural areas, but we work with Fire and Rescue, State Emergency Service, Forestry corporation and NSW National Parks, We all work together."
(出典: NSW National Parks and Wildlife Service
There are also around 1,200 trained firefighters in the NSW National Park. Because they are in charge of a vast bush and forest, they excel at aerial firefighting using aircraft.
Q: Do you have any other joint activities with Fire and Rescue?
Will "Yes, for example, the RFS also handles hazmat removal such as fuel/gas leaks. However, in some situations we work with the Fire and Rescue together. Participates in joint training exercise with Fire and Rescue. "
Q: The Japanese volunteer fire brigade are not allowed to rescue, but what about the RFS?
Bill "We don't normally do rescues except in emergency situations where trained rescue is not available."
Q: How do you receive dispatch requests?
Will "When the person who found the fire calls " 000 ", it connects to the RFS Fire Control Centre. They send a despatch request to our pager.
We carry the pager at all times, so we can respond to requests at any time.
Then we call through the radio network with the Control Centre and give information such as the location and situation of the site, the necessary number of crew/equipment, etc. The crews gather at the Moonee fire station and then despatch together. "
Not only in Australia, but also in the United States, Canada and Japan etc, a pager is often used by firefighters because it won't be affected by the weakness of the reception like wifi. Firefighting is often done in remote areas or in the middle of buildings.
Q: In what configuration do you go to the fireground?
Bill "Up to five people work as one team under the direction of the Captain and Deputy Captain.
As for Moonee, we split up and set off in two fire trucks.
Activities are executed in dangerous fire grounds. If the unit is large, we can't keep an eye on individual crews. Smaller Units are more flexible and safe.
We must always watch each other to avoid danger."
Will "As for the chain of command, only the captain and the deputy captain discuss the tactics then inform the crews.
When the fire is large scale we work with other brigades or agencies. In that case only the captains discuss the strategy.  If many agencies are involved a commander takes control.
If there are 20 vehicles, this may be cut into 4 sub-divisions and branches. Group officers in each division pass information to each other.
If information comes from one point, we can avoid confusion and get the right information from top to bottom immediately.
If we stick to basic principles, this system works really well, it just like military's chain of command."
Q: Have you ever encountered a dangerous situation during fire fighting?
Will "It's happened quite a few times.
One day last November, I was in the fire truck on the burning fire ground. The wind suddenly changed and came through, the fire jumped into trees and crowned over me. I didn't get injured. I've never been injured on the fireground. It shouldn't happen."
Bill "I was injured during the "Liberation Trail" section of the fire, one of our fighter was a nurse and she gave me first aid immediately.
As Will said we shouldn't get injured, because when I got injured, we lost two fighters for a period of time. We can't afford to lose crew. Unless the crew is injured, everyone can work.
"Watch yourself and watch your fellows", it's a follower system."
The Liberation Trail was the name given to a very large section of the recent fire that destroyed so much of NSW with a fire front of over 120kms.
Will "We've got three priorities.
Protect people
Protect property
Restore normality
But the overriding priority is crew safety.  I learned how important crew safety is.
Bill " The reason is we cannot do the three if we loose crew members. So crew has to be number one."
Will "If there is a huge fire, we pull back and reassess. We are not gonna put crew in unnecessary danger. Our priority is crew safety."
The "crowning" which Will and Bill encountered is bushfire moves from treetop to treetop, burning above the ground.
Please take a look at the sample video to see what crowning looks like.
(Source: The Telegraph)
Q: How was this year's bushfire? Different from the past years?
Will  "Bushfires always starts around September every year (spring in the southern hemisphere) here in the Coffs Harbour area.
As the temperature rises, bushfires head South, in October and November Sydney, Canberra area, in January, February Melbourne and Adelaide area.
This year, the rainfall in Australia was abnormally low and the drought was severe.
This was probably one of the causes of the expansion. Past large-scale bushfires have always occurred after long period of droughts.
In this area, the number of bushfires occurred much more than usual. Dryness and high temperatures were triggers for the fires which spread to places that have never burned. The power of the fires is also intense. This year's activities were extremely difficult. "
Q: Can we prevent bushfires?
Will "The cause of the fires is not only spontaneous fire, but also many human related fire such as mismanagement of fire .
Even if you take measures for this reason, you cannot completely prevent bushfires.
Drought,  Bushfire, Floods; are in a cycle. Because this is Australia. "
Tonight the sails of the Sydney Opera House are illuminated with photos in support of communities around Australia affected by bushfires and the firefighters defending them. 🙏👩🏻‍🚒👨‍🚒🔥#bushfireaustralia #operahouse #firefighters #thanks #NewSouthWales #Sydney #mfkphotography pic.twitter.com/EjNdu8ao3C

— MFK Photography (@MFKPhotography1) January 11, 2020
The Opera House was lit up in honour of firefighters. (January 11, 2020)
Q: Why did you choose a dangerous activity like volunteer firefighting and what does it mean for you?
Will "I was born and raised in the rural area in Queensland. I grew up in the community and was always active in the community.
When I moved to NSW, I wanted to participate in community activities.
I had an interview with a manager of the RFS. He asked me "Where are you based. Here? Ok, join us". Then I joined them.
Participating in activities for the community is very natural for me. It's an Australian attitude.
For me, volunteering is a "release". It's a release from work pressure and responsibility to the kids and so on. "
Bill "I retired from work and returned to Moonee. I didn't want to be a person just sitting on the sofa and watching TV. I had been a football coach before. I joined the RFS because I wanted to try something different for the community.
At that time, I was asked by a friend who was a deputy captain of the fire brigade, and I decided to join. "
Q: At that time, was there a shortage of human resources?
Bill "We always want more people. For instance, people who work like Will have difficulty doing daytime activities. But, people who retire like me can cover it. "
Will  "In the past, RFS members have mainly been retirees . I think we are at a turning point now.
The number of bushfire has increased year by year, and the fire situation is changing. Not only retirees but also young people with physical strength are needed. That's one of reasons why I decided to join the RFS."
Q: You mean, the young and old generations cover each other in the team?
Will "That's right. Someone in the team is free to work during the daytime, it's like a bonus. "
Bill "Many young people like Will have a job and a family with small children. They may not be able to be dispatched all the time.
I'm retired and free 24/7, so it is possible to dispatch at any time."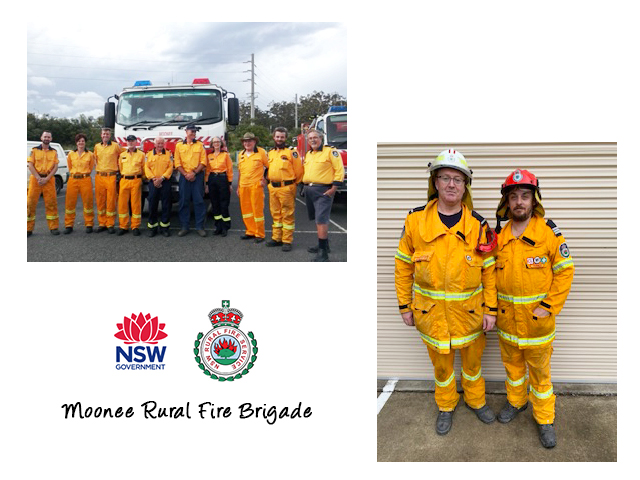 (right) Captain Will O'Brien(Red helmet), Senior Deputy Captain Steven Axford(White helmet).
(left) Will, Steve and Bill are conducting training for new recruits in preparation for their Basic Firefighting (BF) accreditation.
Q: Will, you have a job. Is it difficult to balance your job and volunteering?
Will "The company where I work is very understanding and supportive of RFS activities.
For example, one day the captain meeting was urgently scheduled next day during the daytime. My boss just accepted and said to me "no worries".
Once you get to a fire ground, you may not be able to leave there easily.
The other day, my pager went off around 8pm. I turned up and Bill was dispatched too. This fire fighting activities ended around midday of the next day. Of course, I could not go to work.
* In order to continue volunteer firefighting, an understanding and supporting workplace is very important. In the case of privately owned businesses and small businesses, it would be a loss for the business performance if the staff take days off during every fire. In many cases, participation becomes difficult, and as a result, volunteers cannot continue at the RFS.
Volunteer crews use their paid holiday to take day off work for fire fighting. This year's (2019-2020) bushfire continued much longer and stronger than expected, and many people were unable to return to work and lost income.
Last year at the end of 2019, the government announced that they had decided that long-term volunteers can claim conditional compensation. It is a temporary measure, not a reward for fire fighting, Make up for the financial losses for volunteers.
Q: It is hard to have a job, look after your family, and to continue this hard-working volunteer work.
Will  "Yes. However, I have set the priorities as 1. Family, 2. Work, 3. Volunteer."
Q: So, is it possible to refuse the dispatch request?
Will "Yes, we can. Because we are "volunteers". If we get paid, this activity is no longer volunteer but an obligation.
If so, I had to change the order of priorities in my life.
But because it is a volunteer based work, that is why I can continue.
Bill "For example, it takes Will over 30 minutes from his workplace to reach Moonee fire station. In some situations, immediate despatch is a priority rather than waiting for him. In such a case, under my command as deputy captain, only retiree crews are dispatched.
However, because of my age, it is physically difficult to firefight for long hours compared to young people. Do what you can, but not what you can't.
That's what the volunteering is all about."
Q: Australia seems to have a stronger spirit of volunteering than other countries. Why do you think that is?
Bill "Because Australia has a culture of "Look after your mate".
This country has a huge expanse of land, but a small population, and most of people are living in the coastal areas.
In early colonial times, there were harsh environments that could lead to loss of life unless you had friends and help each other, relied on each other to live inland. They also needed to avoid isolation.
Our "Mateship" came out from it and developed. It is likely to boost volunteerism in Australia."
In Australia, more than 85% of the population lives within 50 km of the coastline, however 75 - 80% of the land is not suitable for urban occupation but great to visit it is called "The Outback".
(The land area is about 20 times bigger than Japan and the population is only one fifth. )
(Source: Australian government)
Q: In conclusion, do you have any message for Japanese people?
"Don't be afraid of bushfires, come and see the great land of Australia!
I'm not talking about big cities like Sydney, Melbourne. Visit regions which are rich in nature. Bush and trees are all grown back.
Go regions, go out to the bush! ''
Thank you very much, Will and Bill.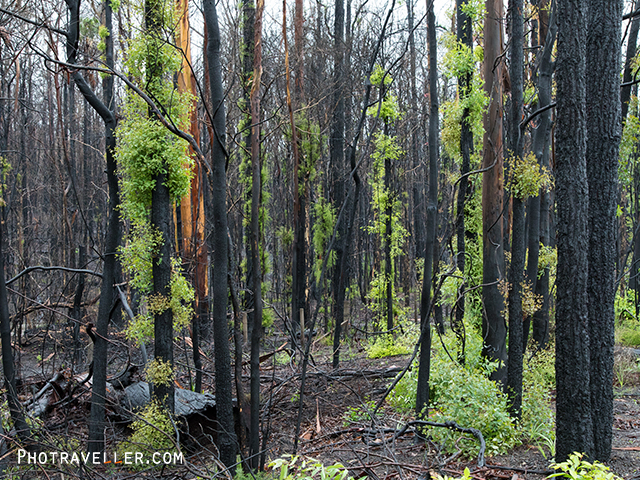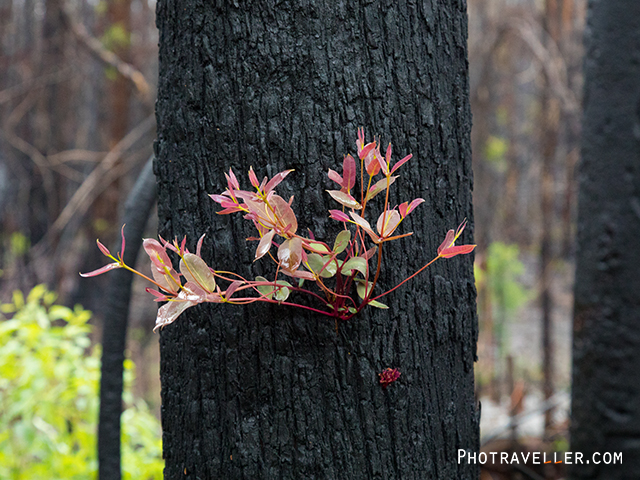 (1/2) Message from 🇦🇺 Amb Court, JCCI Chair Mimura & other biz leaders on Australia's bushfires. #森林火災 へのご支援に対するコート🇦🇺大使らからのメッセージ📹をご覧ください @ANZCCJ @melaniebrockjpn #StandWithAus pic.twitter.com/qiMmy4IFIh

— Australia in Japan (@AustraliaInJPN) February 10, 2020
About Australian Mateship spirit
Today's Doodle on Australia Day is inspired by the spirit of resilience and mateship that binds the country together. Doodle Archive
Mateship is an Australian culture, can be replaced by the word of friendship, but more than just a friend.
It is an Australian temperament of helping each other.
Bill also said "looking after your mate".
I asked Japanese friends in Australia whether they had ever been helped by a mate.
The answers came back quickly.
I have never walked up stairs with a baby pram all by myself. Someone has 

always helped me with a smile.

When I got a flat tire, someone stopped immediately to help.

My suitcase wheel got stuck on a cobbled alley. A stranger stopped and fixed it for me.
Australian mateships are also often seen as indirect actions.
For instance, in 2011, a huge cyclone hit Queensland and devastated Australia's banana plantations.
Banana prices increased about 8 to 10 times more expensive than normal.
It was over AU$16 per kilogram.
My Australian friend and I were shopping at a supermarket, and I found the banana prices were really high.
She said
"Bananas are very expensive now. But buying bananas will help recovery of banana plantations. It's like a donation, isn't it?".
And she grabbed one bunch of bananas.
I remember being impressed by my friend's action and warm words.
Unfortunately, I didn't even think about the idea.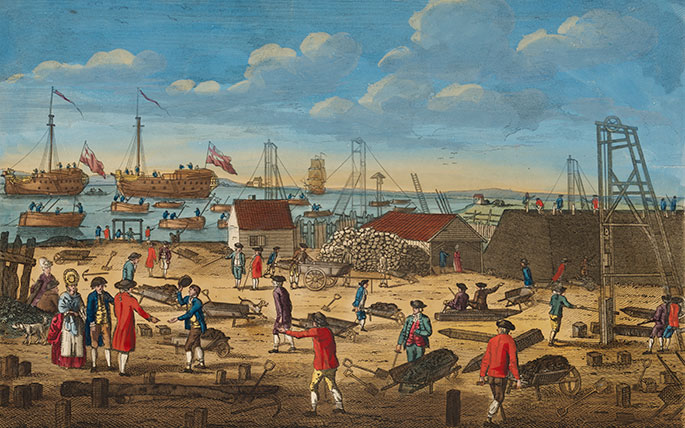 (Source: National museum Convict transportation peaks )
Australians have a helpful nature that doesn't expect a return, and have a sense of values to respect freedom and equality which are based on "mateship".
This country began as a British penal colony in the late 1700s. Between 1788 and 1868, more than 162,000 people, including minor criminals, were transported from Britain and Ireland.
They were forced to do reclamation work of this harsh land and stipulated to work from Monday to Saturday, from sunrise to sunset.
Their everyday life was also bounded by strict rules.
Awareness of freedom and equality is an anti-class based ideology.
Their feeling of repulsion towards class society may have emerged in this era.
In the mid-1800s, the Gold Rush brought lots of settlers from Europe.
Harsh climate and environmental factors such as drought, bushfire, flood, storm and heat, always tormented people and could lead to loss of life unless they had friends that they could rely on to help.
Everyone needed knowledge, information, skill and manpower. Communities were spontaneously born.
People lived as a part of a community, mateship developed among them as a pillar of the community.
This spirit has been passed down from generation to generation and continues to the present.
Mateship is also officially defined by the federal government.
To get citizenship in Australia you need to pass the citizenship test.
The test covers many different topics such as history, politics, culture, sports, and a sense of values.
A booklet has been published as a guideline and "mateship" is included as Australian culture.
Both Will and Bill said that "Fire fighting activities are dangerous. However, helping our community is nothing special".
Simon Tadrosse, who I interviewed for another article "Bushfire site report in Blue Mountains" also said that
"I lost 40% of my apple orchard which burned down, but I was better off than others. I want to work hard not just for my orchard, but also for the whole community".
Those who protect the community from bushfires, those who are protected. I felt mateship spirit 
from both side of them. That's why they can live in a community based on trust and respect.
One day, a young man came up to Bill at a shopping centre and said
"You guys have saved my house from the bushfire. Thank you very much."
Mateship spirit that warms the community is the power of Australia, is something I felt deeply through this interview.
Visited the RFS Moonee fire station
The Moonee Fire Station has two fire trucks.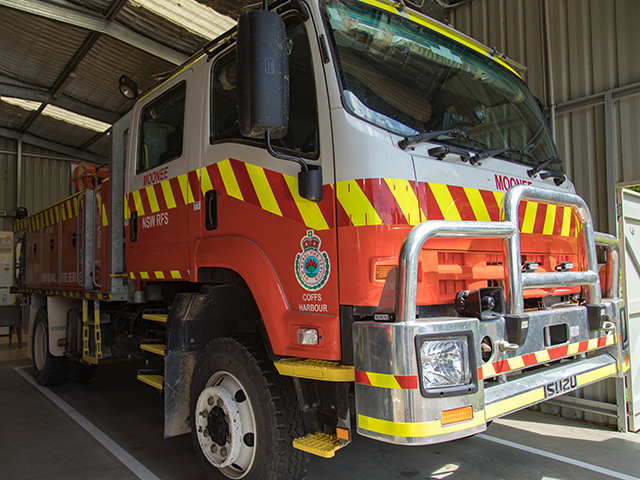 A large fire truck called Category 1 has a 3,000-4,000 liter water tank. This  truck is mainly driven by Captain Will.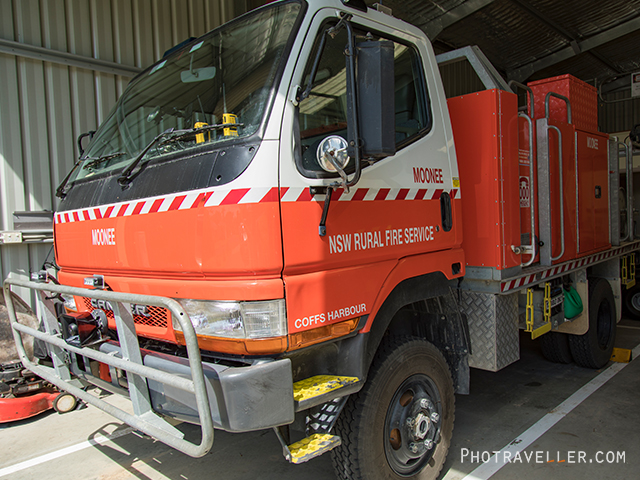 A small fire truck called Category 7 can be loaded 800 to 1,600 liters water. This truck is mainly driven by Deputy Captain Bill.
Category 7 leads the fire ground, followed by large Category 1.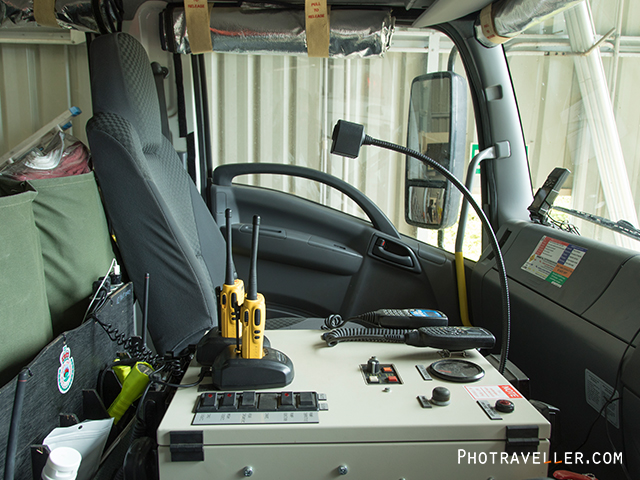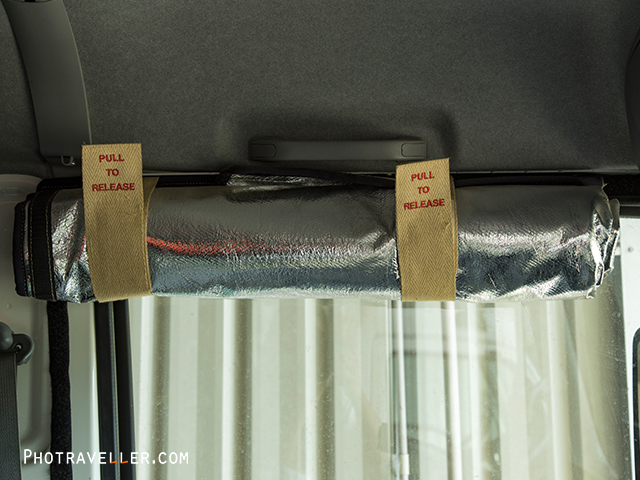 I got on the fire truck! The inside was full of burnt smell. All windows had a heat insulation sheet. It reminded me of the harshness of the bushfire grounds.
This is the storage for fire hoses. There are several different diameter hoses;
38mm is for 

house and building

25mm is for bush

65mm is for water supply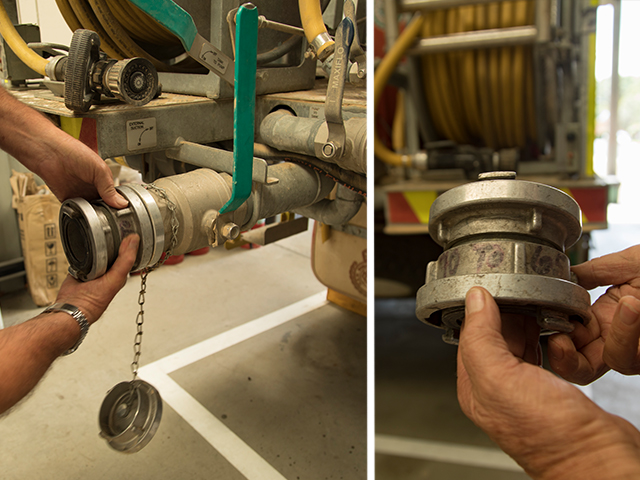 This is the attachment to connect the RFS hose to the Fire and Rescue NSW fire truck.
RFS also has got different kind of vehicles that suits for each local condition, such as medium fire trucks, pump trucks, bulk water trailer, fire boats and aviation .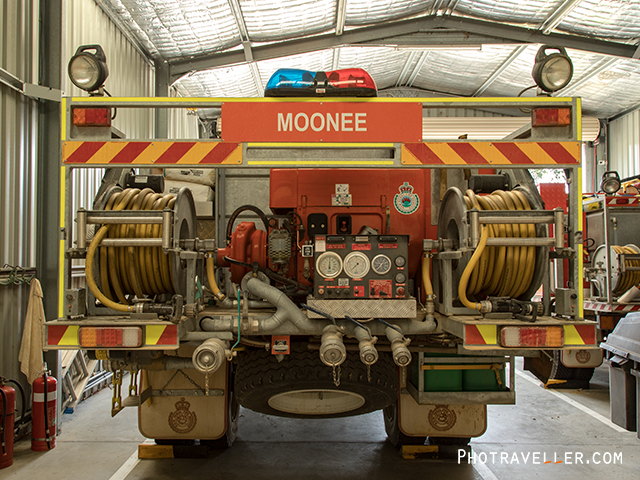 Conclusion
By doing this interview, I was able to learn something that even residents might not easily know.
I learned that volunteer firefighter's courageous actions are based on the Australian spirit of "Mateship".
Knowing Australian culture, I've became a fan of this more than before.
Captain Will O'Brien and also Australian ambassador Richard Court have sent Japanese people the same message
"Visit Australia!".
Not only the landscapes/beaches, but also the hearts of the people are so beautiful.
I'll keep offering great charms of Australia on this website.
Please visit Australia!
It is a long article, but thank you for reading to the end!
Photraveller Yori